"We are proud to join Cleaning for a Reason and support cancer patients," said Macias.
"We care, and we know how hard it is to maintain your house while undergoing treatment. During this COVID-19 crisis, we're doing even more to protect our clients and our team. We are wearing masks and gloves, handwashing between tasks, and practicing social distancing when cleaning. Most importantly, we are cleaning, sanitizing, and disinfecting for a clean, healthy home. To protect clients and staff during the COVID-19 crisis, cleaning methods now also include EPA-registered disinfectants, along with our green cleaning solutions."
Through a partnership with Cleaning for a Reason, NG Solutions Cleaning supports two homes per month for two consecutive months free of charge. This is an ongoing service to cancer patients residing in South Florida in the Broward County area.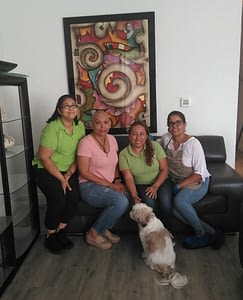 Customer Testimonial
"The team came wearing a smile and were eager to please. They did their job effectively and provided a wonderful service!"
By Elaine Stewart.